USCG Vessel Safety Inspections
Saturday, June 14th
By Reservation Only
The U.S. Coast Guard recommends that all recreational boaters, including personal watercraft and paddle sport users, take advantage of the free Vessel Safety Check program every year. Boats that pass the examination are awarded a distinctive VSC Decal that alerts the Coast Guard, Harbor Patrol, and other law-enforcement agencies that your boat was found to be in full compliance with all Federal and State boating laws. Frequently, such agencies will not detain or board boats displaying a current-year decal that are otherwise operating safely.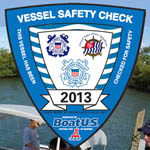 For the third year, the White Lake Citizens League has arranged for members of the United States Coast Guard Auxiliary to be at several locations on White Lake on Saturday Morning, June 14, 2014 to inspect boats and affix safety check decals to boats which pass the safety inspection.
Inspections will be provided BY RESERVATION ONLY to 2014 members of the WLCL. To arrange for an inspection appointment, send an e-mail to DNRliaison@wlcl.org. Please provide your name, address, phone number, type and size of boat. You will receive an appointment at a location convenient to your home.
An inspection is free and takes about 15 minutes. Make sure that you bring your registration, and documentation if you have taken a boating safety class. Click here to view sample of the form used by the inspectors. Details about the inspections are at the U.S. Coast Guard Auxiliary website.
There are different inspection items for pontoon boats, I/O boats, jet skis, etc., so be sure to carefully read the information at the sites above. There are also additional items required if you trailer your boat to the Great Lakes or larger inland lakes and rivers.
At last year's inspections, one of the more common problems found with local boats was improper boat "MC" number decals. Numbers must be BLOCK letters (not italic, script, etc.), and SOLID COLOR contrasting to the background (not shadowed, multi-colored, etc.). Ironically, not all of the numbers sold by local boat dealers are legal. Click here to view the Michigan standards.
This service is an annual benefit for WLCL members on White Lake.